How?
By using our No Success Fee Deductions Service.
We don't spend a fortune on advertising and we're very careful with our money so we don't need to take a success fee deduction from your damages*... and that ensures our clients keep 100% of their compensation free of any success fee deductions.
What does this mean?
Most solicitors, who may advertise a 'No Win, No Fee' service, charge their clients a success fee of up to 25% of the damages awarded.
And quite simply, we don't.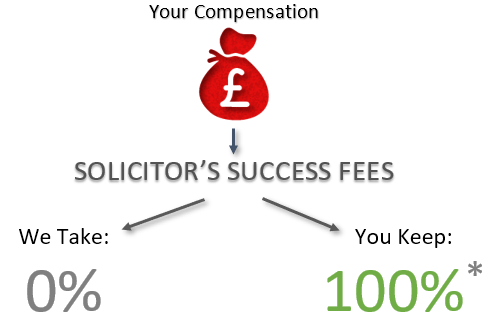 Why do solicitors charge a success fee?
Changes in the Law have affected the way personal injury claims are funded:
Solicitor "success fees" are no longer recoverable from a losing defendant, as they were in the past.
The government have restricted the amount of legal fees which solicitors can recover from a losing defendant.
Be aware! Solicitors may advertise "No Win, No Fee" but that probably means they will charge you a success fee if you win.
So, if you're awarded £5,000 in compensation, you may lose £1,250 to a solicitor.
Can I move Solicitors?
You may have already started a 'No-Win No-Fee' accident claim with another firm. You are perfectly within your rights to seek an alternative firm and you can easily move your case across to another solicitor.
There are many reasons why it might be appropriate to consider changing solicitor, including:
Having to deal with many different case handlers rather than a dedicated contact.
Concern about the quality of the advice you are receiving.
Dissatisfied with the service.
Unhappiness with the speed that your case is progressing at.
Feeling pressured to accept a lower compensation amount.
Unhappy about the success fee deduction from your compensation.
Contact us as soon as possible and we will provide a second opinion at no charge to you - if you wish we can also advise you on the best way forward to transfer your case to us, taking the worry off your hands.
Why PM Law?
We are here to help without deducting unnecessary success fee charges from your compensation.
From our offices in Sheffield and Glasgow we have provided a national service to injured victims of non-fault accidents for more than 20 years. Our team of personal injury specialists will continually strive to achieve the best results for you within the shortest practical timeframe.
You can be assured of a bespoke service that will provide you with the compensation you deserve - with no success fee deductions from your compensation in line with our no deduction terms & conditions.
Great, what do I do?
Complete our enquiry form
ENQUIRE NOW
Or call our Personal Injury Team on
03300 562180